Rosy's #Roxyfitness Beach Workout
No time for excuses here, Rosy Hodge makes the most of any down time by getting her #ROXYfitness gear on and hitting the sand. As the master of exercising anywhere, Rosy takes us through her easy beach workout, step by step – just for you!
My day to day is pretty busy and I'm usually in a rush so when I find 30 ­- 45 minutes to fit a workout in, I throw on some gear, find a wide, open beach to run on for 30 minutes and finish with a 15 minute workout.
Here is a little routine I put together on the Gold Coast of Australia, during the #ROXYpro.
For this workout I picked out the #ROXYfitness Quick Set Top and Go Shortie pant, as they're the perfect set to take me from land to sea.
High Knees – 1 Minute
Set your clock and go for gold. Run on the spot, lifting your legs up as high as you can. This ones great for targeting your butt and quads.
Plank with Butt Spike – 1 Minute
Start in the plank position, keep your core engaged as you lift your butt into the air using your arms and core to keep it controlled. Come back to the plank position and repeat for the full minute.
Alternating Step Lunge – 1 Minute
Don't sacrifice speed for form in this alternating lunge. Make sure your knees are never too far over your toes on either side of your body. Jump into the lunge position, alternating each side for the minute.
Crunch Alternating Leg Lift – 1 Minute
Feel the burn, keep your core engaged and legs off the ground. Lift alternating legs in a scissor motion for a minute.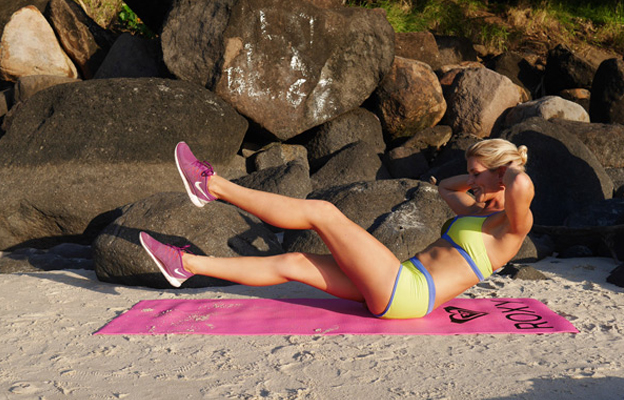 Side Plank Leg Lift – 30sec each side
Finishing up the rotation, a side plank with leg raises. Keep your balance using your core and slowly raise and lower your leg. Do each side for 30 seconds.
Repeat each of these exercises 3 times for your 15 minute workout.
Stay tuned for more #ROXYfitness updates and exclusives by following them on Instagram, Twitter and Facebook.